The Transport Research Arena (TRA) is an international conference initiated in 2006 to convey all major players within the transport industry with a focus on cutting-hedge research. The conference is sustained by well-known international actors such as – among the others: the European Commission, CEDR (Conference of European Directors of Roads), ERTRAC (European Road Trasport Research Advisory Council), ERRAC (European Rail Research Advisory Council), WATERBORNE and ALICE (Alliance for Logistics Innovation through Collaboration).
TRA is a point of reference to all players in the transport industry, especially policy makers, looking to integrate regulations with the latest research findings. This year, in 2022, the conference took place in Lisbon from the 14 th to the 17 th of November. The themes of this year's edition are divided into four major areas: Smart Solutions and Society, Green Mobility and Decarbonisation, Innovative Infrastructure for Europe 2030, Policies and Economics for a Competitive Europe.
We participated to the TRA conference to present several EU Project as 5G – LOGINNOV, SINFONICA and FENIX. The projects have been presented by Giulia Renzi and Michela Apruzzese.
In addition, in the POLIS Network Stand, both ERTICO EU Projects: e-Charge4Drivers and Mobidatalab was presented.
5G – LOGINNOV has been presented by Michela Apruzzese during the presentation, 5G business opportunities for port and logistics operators at the ALICE Innovation Theatre in booth 2.13 on the first day of the TRA conference, November 14. 5G-LOGINNOV focuses on seven 5G-PPP Thematic with the goal to design an innovative framework addressing integration and validation of CAD/CAM technologies related to the industry 4.0 and ports domains. 5G-LOGINNOV also owned a stand in the ALICE theatre in the booth 2.13.
SINFONICA was presented on Tuesday, November 15 by Giulia Renzi from 3.00pm to 4.30pm during the session number 62, Making CCAM a Smart Solution for Society. SINFONICA focuses on the development of strategies to engage CCAM users in efficient and innovative ways with a special emphasis on the most vulnerable target groups, such as: foreigners, children, and people with disabilities. The session 62 is organised by Suzanna Kraak (European Commission). SINFONICA belongs to the first batch of Horizon Europe projects dealing with societal aspects and users' needs in CCAM development and deployment.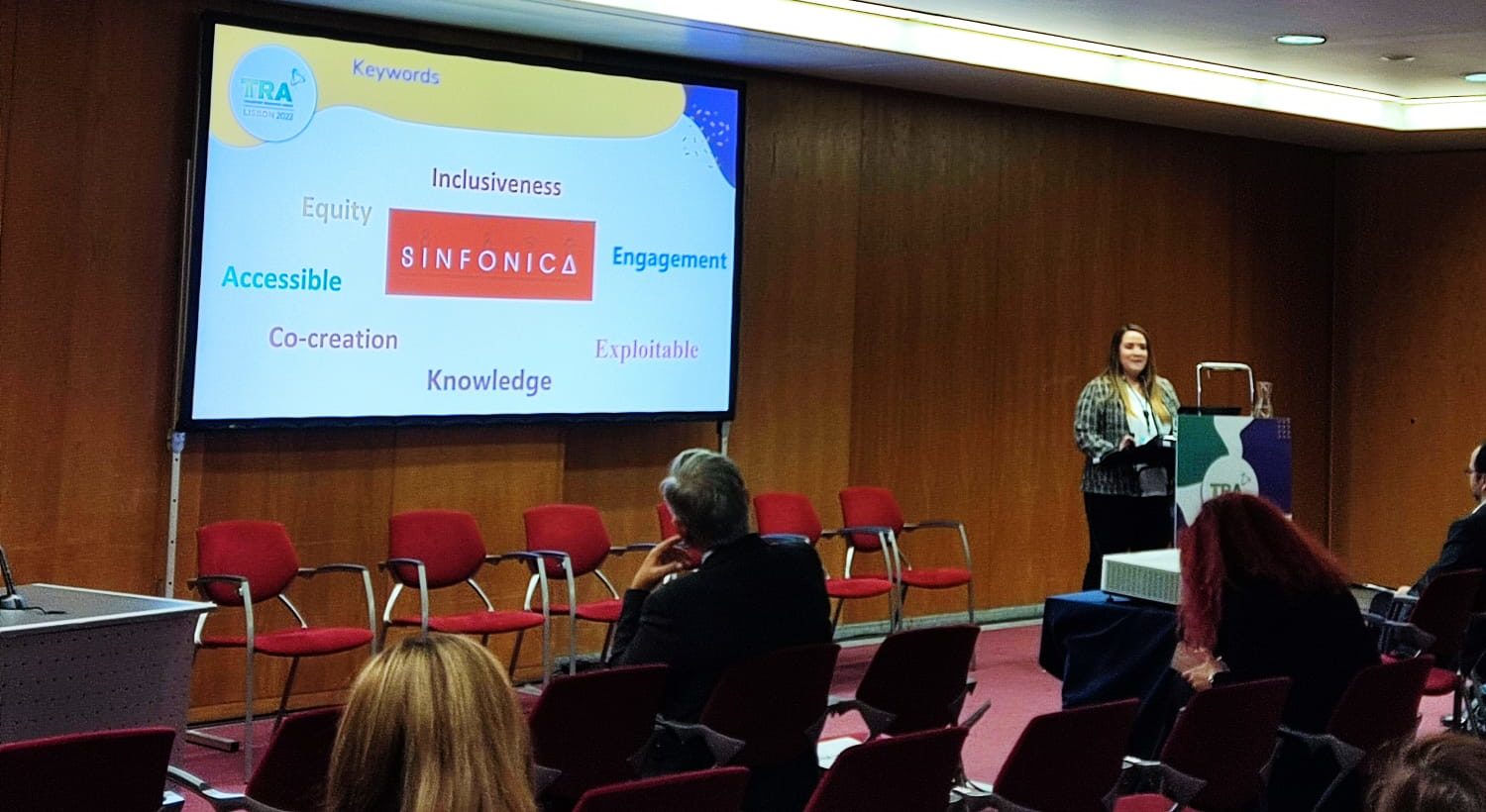 On Wednesday, 16 th of November, from 1.15pm to 2.30pm, during the strategic session 3.2 – Sustainable ports and airports, Massimo Corradi presented OLGA, the Olistic Green Airport, a new project approved by the European Commission involving four international airports. ICOOR supports the OLGA project by participating in the activities implemented within the Milano Malpensa Airport.
FENIX was presented on day 4 of the TRA conference, November 17, from 8.30am to 10.30am by Michela Apruzzese. The presentation took place in room 5A under the title:Business requirements for logistics data sharing: recommendations from the FENIX project . This presentation belongs to the group that falls under Innovative Business and Governance Models (Subtheme 4.2.2). FENIX is a 3 year long Connecting Europe Facility (CEF) project aiming to support the development, validation, and deployment of the digital information systems along with the EU transport Core Network.
e-Charge4Drivers participated in the invited session n.50 titled User-centric and smart charging solutions for future-proof electromobility on Monday 14 November, from 17:00 to 18:30. The session was organized by Angelos Amditis of Institute of Communications and Computer Systems (ICCS). E-Charge4Drivers focuses on user-centric EV charging solutions.